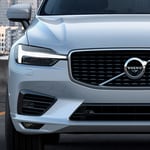 Driving the luxury Volvo XC60 R-Design can be exciting because of its high-quality features. As a popular performance SUV, you'll appreciate how it handles and feels on the road.
Sensus Navigation

Anyone that has ever taken a wrong turn while driving because of outdated directions provided will appreciate the accuracy of the Sensus navigation system in the Volvo XC60 R-Design. In addition to its precision, you'll enjoy the 12.3-inch digital display that's focused on the driver.

Leather Steering Wheel

? There's a leather steering wheel in the Volvo XC60 R-Design that enables you to handle this SUV like a champ. While the functionality is great, the steering wheel is thoughtfully designed and looks incredible.
The Volvo XC60 R-Design is the type of vehicle that you must drive to fully appreciate. If you're interested in this luxury SUV, we invite you for a test drive here at Findlay Volvo Cars Las Vegas. We're located in Las Vegas.